David Maus Toyota is thrilled to be the primary source for the Toyota Camry in FL. David Maus Toyota is an Sanford Toyota dealership and carries a extensive inventory of New Toyota Camry and top quality and high value Used Toyota Camry and other cars & trucks.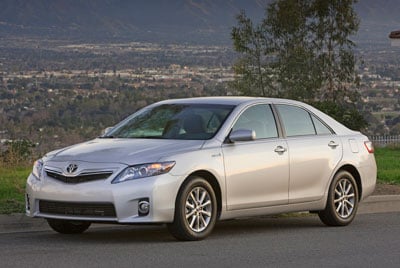 When consumers compare the Toyota Camry to other makes like the Hyundai Sonata, Nissan Altima, VW Passat and Chevy Malibu, the 2012 Toyota Camry shines as the most fun-to-drive. Starting with the 2010 Toyota Camry, owners found this affordable Midsize Sedan's crisp handling and lively acceleration to be reason enough to choose.
You'll be pleased by the Toyota Camry, affordable midsize car, when you browse David Maus Toyota in Sanford
The Toyota Camry is the best-selling passenger car in America for eight years running. The 2012 Camry blends performance and economy in an ideal way for an affordable midsize car customer in Sanford. Distinctive, athletic lines, which were enhanced from the 2010 Toyota Camry, set it apart from the Hyundai Sonata, Nissan Altima, VW Passat and Chevy Malibu. The 2012 Camry offers responsive handling while providing a smooth, quiet ride that sets the benchmark for the affordable midsize car segment.
The 2012 Camry is full of standard equipment that shoppers look for at David Maus Toyota. The 2012 Camry has power windows, power door locks, power side mirrors and even air conditioning standard. The Camry LE adds an in-key remote keyless entry and eight-way-adjustable power driver's seat to the standard list of features. The Camry XLE's list of standard features includes an upgraded dual-zone automatic climate control system with steering-wheel controls and a premium 440-watt JBL audio system with Bluetooth® technology. The V6 Camry XLE is equipped with leather-trimmed seats and a power moonroof standard. The Camry Hybrid offers a standard Smart Key System featuring push button start.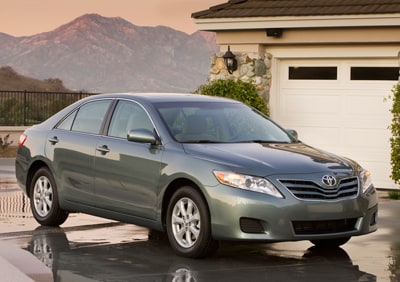 New for the 2012 Toyota Camry are the lower-rolling-resistance tires that increase the V6 Camry gas mileage to 20 mpg city and 29 mpg highway, increasing it from the 2010 Toyota Camry V6. The DOHC 3.5-liter V6, available in the Camry LE, Camry SE and Camry XLE, delivers a substantial performance boost with 268 hp and 248 lb/ft of torque. The standard V6 Camry automatic transmission is a six-speed automatic transmission that offers a sequential mode for manual shifting around Sanford. The DOHC 2.5-liter four cylinder engines found in the Camry and Camry LE produces 169 hp and 167 lb/ft of torque. The Camry SE produces 179 hp and 171 lb/ft of torque for even better performance. The four-cylinder Camry LE and SE have a gas mileage return of 32 mpg on the highway. The 2012 Camry Hybrid gas mileage is rated at 35 mpg on the highway. The Camry Hybrid owes its outstanding efficiency to Hybrid Synergy Drive, which produces a combined 187 hp and varies power between the gas engine and electric motor or combines both motors.
The 2012 Camry's body structure is designed for safety while traveling around FL. High-strength steel is used for B-pillar and the rocker panel is reinforced to help manage overall body deformation in the event of side collisions. Dual-stage advanced SRS front airbags, front seat-mounted side airbags, side curtain airbags and even a driver's knee airbag are standard on all Toyota Camry models.
Toyota's 36-month/36,000 mile basic new-vehicle warranty applies to all components other than normal wear and maintenance items on the 2012 Toyota Camry. Additional 60-month warranties cover the powertrain for 60,000 miles and corrosion with no mileage limitation. David Maus Toyota have complete details on the Toyota limited warranty.
Here's the reasons why the Toyota Camry has earned the right to be your number one affordable midsize car in lovely FL
David Maus Toyota offers the Toyota Camry a 4-door Midsize Sedan which seats 5 people suitably. The Camry weighs 3,263 pounds, is 189.2 inches long, 71.7 inches wide, 57.9 inches high, and the Toyota Camry's turning radius is 18.1 feet. surprisingly comfortable for its class, the Camry has 38.8 inches of headroom in the front, and 41.7 inches of legroom up front. In the Camry's back seat, there are 37.8 inches of headroom and 38.3 inches of legroom. Need to bring a lot of luggage? The Camry trunk holds up to 15 cubic feet of your gear. So, take a break and enjoy!
Standard Toyota safety features included in the Camry are traction control, anti-lock brakes, side airbags, driver airbags, side-impact bars, seat-belt pre-tensioners, passenger airbags. With all these features, the Toyota Camry is always rated extraordinarily by the IIHS and NHTSA.
The Camry also has a raft of comfort and convenience features, including power steering, remote locks, power windows, power mirrors, climate control, cruise control, air conditioning, power seats, adjustable steering wheel, and more! Especially nice are available hands-free phone and navigation. Test drive the Toyota Camry in Sanford at David Maus Toyota.
Like all Toyota cars & trucks, road handling and performance are top priorities for the Camry. Passing horsepower in the base Camry is 169 hp @ 6000 rpm, and producing excellent torque 67 ft-lbs @ 4100 rpm foot pounds/rpm, the Camry accelerates in a flash from 0 to 60 mph in just 8.6 seconds. If you want to go that fast, the Camry has a top speed of 123 miles per hour. Despite this excellent power train output, the Toyota Camry's fuel economy is rated at 22 miles per gallon in the city and 33 highway miles per gallon. With a fuel tank capacity of 18.5 gallons, the Camry cruising range is well above average. Truly a performance car!
The Toyota manufacturer's warranty covers the Camry for manufacturing defects and has these specifications 3 Years / 36,000 miles. Toyota has worked for years to minimize enviromental impact, and the Camry's carbon footprint is rated very low. Not surprisingly, with all these Camry advantages, this great Toyota Midsize Sedan retains a high percentage of its value at 3 years and 36,000 miles, which makes the Toyota Camry a great used buy!
When seeking safe, economical, sporty and stylish Midsize Sedan, Sanford consumers should head to the Toyota dealer of choice, David Maus Toyota at 1160 Rinehart Rd in Sanford FL.
Toyota Camry service information for Sanford
Toyota Camry owners and lessees in Sanford have found that David Maus Toyota on 1160 Rinehart Rd in Sanford is the very best choice for Camry warranty work, regular maintenance & inspections, and mechanical repairs. At David Maus Toyota, Certified Toyota Technicians, trained in the very latest diagnostic and corrective techniques, work for one thing only ? your complete satisfaction. Whether it's time for your Toyota to have an oil change, or tire rotation, or if you need a regular Camry Scheduled Maintenance, David Maus Toyota is your first choice. Wheel alignments are another specialty of our Certified Toyota Techs, and, here on 1160 Rinehart Rd, we are the smartest choice in Sanford, for quick courteous and professional Toyota Service of all kinds.
If you'd like to make an appointment to have your Camry serviced, click the link or just give us a call. See you soon.