David Maus Toyota's 2013 FJ Cruiser Review and Research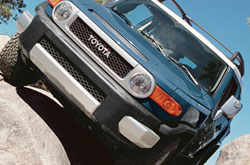 We encourage you to scroll past the YouTube video located below to read a full review of the 2013 Toyota FJ Cruiser. As the foremost Toyota franchise in Sanford it is our job to furnish our customers with Toyota reviews authored by the finest Toyota writers in the world. We're your Toyota FJ Cruiser dealer; this article will help you learn everything you need to know about the Toyota FJ Cruiser in Sanford. Watch the video below or skip it to get the FJ Cruiser review.
Watch a Video on the New FJ Cruiser
Is the Toyota Right for You?
When considering the 2013 Toyota FJ Cruiser alongside the 2013 Jeep Wrangler, Dodge Durango, Ford Edge, Nissan Xterra and the Chevrolet Tahoe, and you can notice that the FJ Cruiser transcends those autos in gobs parts. Scan the hightlights below.
2013 Toyota FJ Cruiser MSRP: $26,880
2013 Toyota FJ Cruiser Body Style(s): Midsize SUV
2013 Toyota FJ Cruiser Cargo Space: 27.9 cubic feet
2013 Toyota FJ Cruiser Colors: Magma, Army Green, Calvary Blue, etc...
2013 Toyota FJ Cruiser Seats: 5 passengers
2013 Toyota FJ Cruiser MPG: 16 city / 20 highway
2013 Toyota FJ Cruiser 0-60 MPH in 7.2 seconds
Sanford Toyota Shoppers: Learn About the 2013 FJ Cruiser's Features
2013 FJ Cruiser Warranty & Safety Technologies
Learn About Our Toyota Auto Repair Center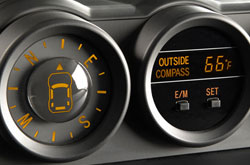 You won't get Toyota trained service techs, a 12-month long warranty on service and legitimate Toyota parts at a conglomerate auto facility in Sanford, so visit David Maus Toyota instead. If you disregard getting tried-and-true repair work, your Toyota FJ Cruiser's physical shape might be damaged, so get it to the certified mechanics at David Maus Toyota. Our techs can take on a gamut of jobs - from hard stuff like Toyota shock and strut repair to less tricky projects like fuel filter and air filter replacement. David Maus Toyota's got you covered for tried-and-true Toyota repair and factory-scheduled service in Sanford. Follow the link below to see our current service specials.