About the Toyota Tacoma in Sanford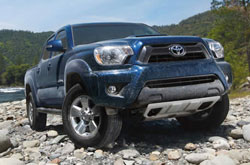 Thanks for choosing David Maus Toyota as your resource for 2013 Toyota Tacoma reviews. How did David Maus Toyota manage to gather this information? By speaking to the finest automotive writers in the industry. This Toyota review article contains everything you need to know about the Tacoma and it's specifications, mpg and more. Is the Tacoma your ticket to freedom on the road? Read on and find out.
View a Walk-around Video of the 2013 Toyota Tacoma
2013 Toyota Tacoma Quick Specs
When considering the 2013 Toyota Tacoma against the 2013 Ford Ranger, Nissan Frontier, Chevrolet Colorado, Dodge Dakota and the Honda Ridgeline, and you can notice that the Tacoma trumps those autos in various parts. Look through the hightlights below.
2013 Toyota Tacoma 0-60 MPH in 8.8 seconds
2013 Toyota Tacoma MPG: 21 city / 25 highway
2013 Toyota Tacoma Seats: 3 passengers
2013 Toyota Tacoma Colors: Nautical Blue, Silver Streak Mica, Barcelona Red, etc...
2013 Toyota Tacoma Body Style(s): Truck
2013 Toyota Tacoma Cargo Space: truck bed cubic feet
2013 Toyota Tacoma MSRP: $17,525
Features, Trims & Other 2013 Toyota Tacoma Highlights
The 2013 Tacoma Was Designed With Your Safety in Mind
Our Toyota Service Center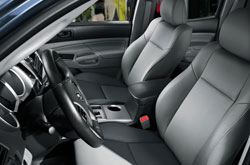 David Maus Toyota's car repair veterans have served Sanford for years with phenomenal workmanship and actual Toyota parts. David Maus Toyota's auto repair veterans will make your Tacoma run strong, so bring it to our Toyota car maintenance center in Sanford today. We will take care of a task as effortless as an oil change, or complete complex auto repairs and service like timing belt replacements, strut and shock repairs and Toyota transmission rebuilds. For trustworthy Toyota repair in Sanford, drive your Tacoma to David Maus Toyota, where you can plan on getting customized service. The next time you come to our service department, take a coupon! Push forward - click the link below this paragraph for specials.